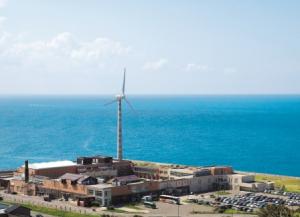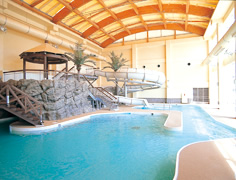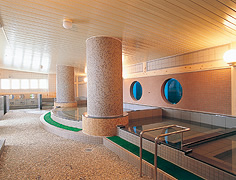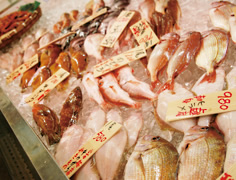 The theme of this "roadside station" Umi Terrace Nadachi is "Eat, Relax, and Play."
There is a large public bath, a fresh fish market, a hotel, and a beautiful view of the Sea of Japan right before your eyes. This is a place where every member of the family can enjoy the delicious bounties of the sea.
The ever-popular pool is open in July and August. The indoor pool features a waterslide, while the pool in the courtyard uses water pulled from the Sea of Japan.
With the introduction of the "hot springs water generator" at the day spa Nadachi Yulala, guests can enjoy the waters of the most famous hot springs in Japan right here in Joetsu. In addition, the open air bath overlooking the Sea of Japan features a sauna, a cold water bath, the most powerful jet bath for miles around, as well as several other bathing tubs. If you like relaxing in a warm bath, this is the perfect lineup.
The onsite restaurant features delicious seafood brought in fresh from the fishing port right next door.
This location is part of these courses
detail information
Name of places:
Umi Terrace Nadachi
Address:
4280-1 Nadachi-Omachi, Nadachi-ku, Joetsu-shi, Niigata
Traffic access(train):
By Echigo-Tokimeki Tetsudo: 10 minute walk from Nadachi Station on the Nihonkai Hisui Line
Traffic access(car):
By Hokuriku Expressway: 10 minutes from the Nadachi-Tanihama IC exit
Tel:
025-531-6300

Fax:
025-537-2486

Business hours:
Day spa Yulala: open 10:00~21:00 (hours subject to change during summer, weekends, or the day before public holidays) Pool: open in July and August.
Hours: weekdays, 10:00~17:00; weekends and public holidays, 10:00~20:00.
Fresh fish market: open 10:00~19:00
Restaurant Umi no Daidokoya: open 11:00~21:00
Ramen corner and Sushi shop: open 10:00~18:00
Holidays:
Closed on the second Wednesday of every month (except August)
Fee:
Off season rates
Bath: adults ¥700, children ¥500, infants ¥350
Pool: adults ¥700, children ¥500, infants ¥350
Combined bath and pool: adults ¥1200, children ¥850, infants ¥600
Summer rates
Pool: adults ¥1000, children ¥700, infants ¥500
Combined bath and pool: adults ¥1600, children ¥1150, infants ¥850
Car parking:
Free parking for 230 passenger cars, 6 large minibusses and 6 tour busses
Link outside:
Umi Terrace Nadachi