Mushigawa Castle Ruins Park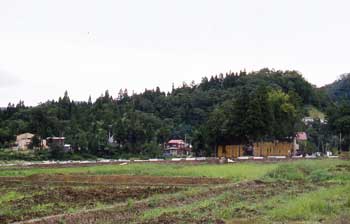 Mushigawa Castle made skillful use of the topography of the mountainside on which it stood. It is an important archaeological site and by looking at the ruins you can get a clear indication of the surrounding land that was occupied during the late warring states period in Japan. The inner citadel of the castle is 35 meters long with a width between 20 and 30 meters. A series of stair-like enclosures encircle the main castle.
It was said to be the main castle of Mokuta Shuzen who was the chief retainer of Kazama Shinano no Kami Nobuaki, who was the owner of Nomine Castle.
detail information
Name of places:
Mushigawa Castle Ruins Park
Address:
1521 Mushigawa, Uragawara-ku, Joetsu-shi,, Niigata
Traffic access(train):
Take the Hokuetsu Kyuko Hokuhoku Line to Mushigawa Osugi Station. It's 10 minutes on foot from there.
Traffic access(bus):
Take Kubiki bus to Mushigawa Osugi Eki Mae and it's a 10 minute walk from there.
Traffic access(car):
Take the Joetsu IC exit on the Hokuriku Expressway and it's 30 minutes from there. Or, Take the Kakizaki IC exit on the Hokuriku Expressway and it's 30 minutes from there. Another way is to Take the Joetsu-Takada IC exit on the Joshinetsu Expressway and it's 50 minutes from there.
Tel:
025-599-2302
Phone the Uragawara Ward office (Industrial Promotion division)