Morning Market (Shiku no Ichi)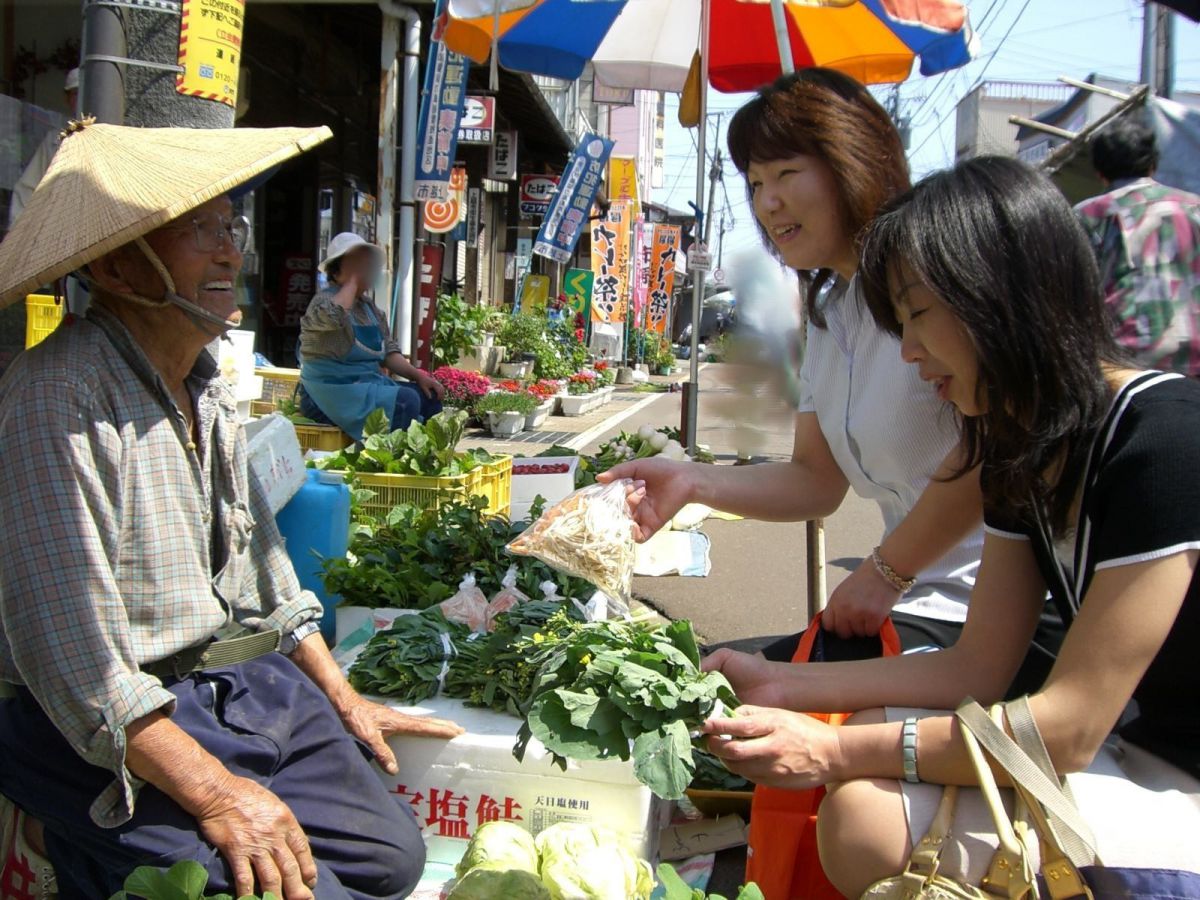 The "Shi-ku no Ichi" (4-9 Market) is open on days containing a "4" or "9" and runs next to Omachi Elementary school and adjacent to the market held on days containing "2" and "7" ("Nishichi no Ichi"). This morning market first began in August 1920, and originally ran from New Sugamachi to Sugamachi (presently Nakamachi 2-chome)..

Although the market disappeared briefly, it was restarted at its present place in 1924, where it runs today.
The site of the market, Omachi 4 and 5 chome, is known throughout town as a "gangi" street, or a street with covered walkways to protect pedestrians from snow.
The "gangi" eaves extend from each home and connect to make a passageway for walkers during times of deep snow. "Gangi" eaves were born of the warm hearts of the residents here, and can only be seen in "snow country."

During the market, stalls featuring fresh vegetables and fruits are lined up along the covered streets.
detail information
Name of places:
Morning Market (Shiku no Ichi)
Address:
4 and 5 Chome, Omachi, Joetsu-shi, Niigata
Traffic access(train):
By Tokimeki Tetsudou: 7 minute walk from Takada Station on the Myoko Haneuma Line
Traffic access(car):
By Hokuriku Expressway: 15 minutes from the Joetsu IC exit
By Joshinetsu Expressway: 10 minutes from the Joetsu Takada IC exit
Tel:
Tourism Promotion Division: 025-526-5111
Fax:
Tourism Promotion Division: 025-526-6113
Business hours:
Market is open from 7:00 am to noon on the 4th, 9th, 14th, 19th, 24th and 29th of every month.
Car parking:
Fee Parking is available at Honcho 3, 4 and 5 chome.
A 30-minute free parking voucher can be given to those who make a purchase at the morning market