Joetsu City History Museum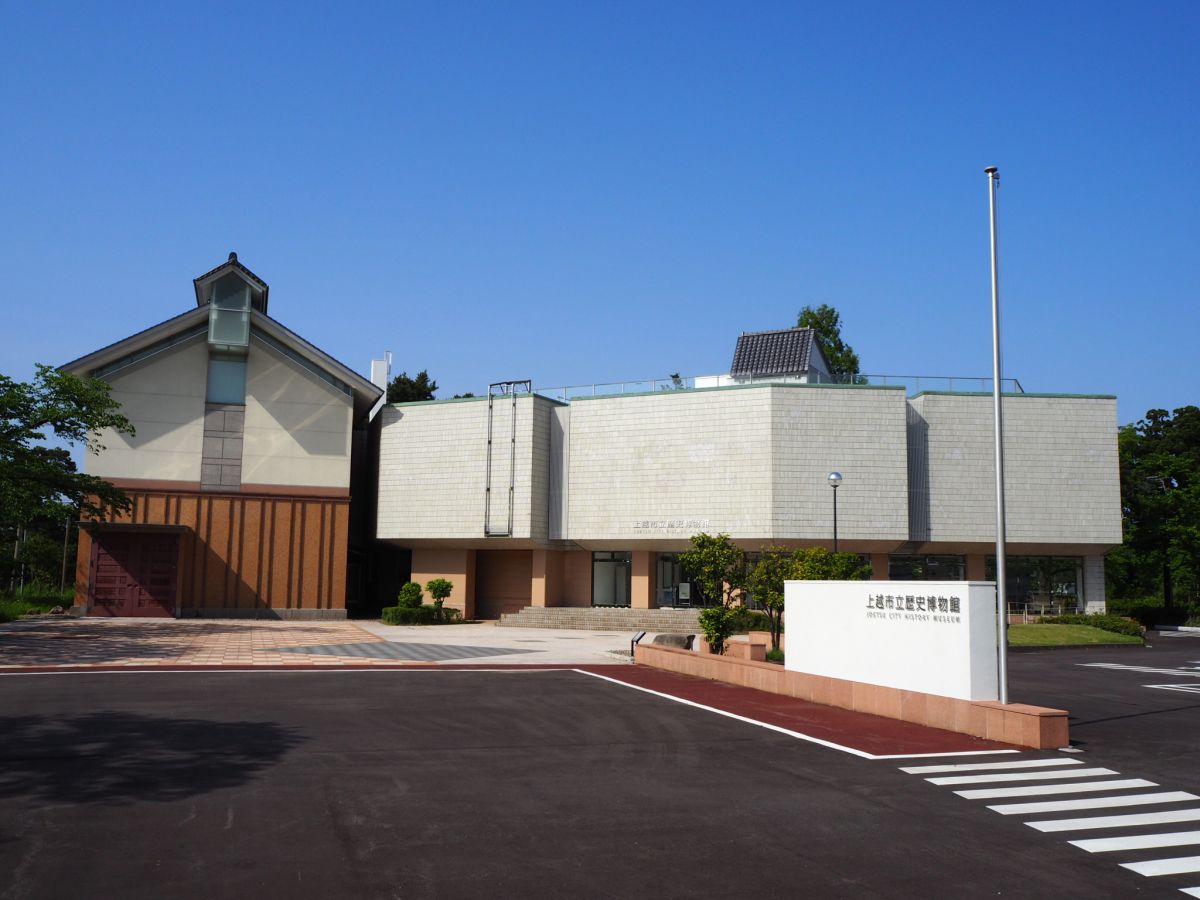 The former Joetsu City Museum, opened in 1972, was recently re-opened as the Joetsu History Museum on July 21, 2018, taking advantage of its location in Takada Castle Ruins Park.
A permanent exhibition room showcasing the history of the area since the Azuchi-Momoyama period has been set up with the theme of "the Capital of Echigo."
Learn about the history of the three local castles, Kasugayama-jo, Fukushima-jo and Takada-jo, as well as the development of the region that has taken place thereafter.
The first floor lounge, with views of the inner moat and earth fortifications of the main castle, as well as the roof deck, with views of the castle's 3-tiered turret, Mt. Myoko and Mt. Yoneyama are free of charge.
The renovated cafe and gift shop is an excellent starting point for a walk through Takada Castle Ruins Park, through the town, for exploring history, or enjoying a break in the park.
This location is part of these courses
detail information
Name of places:
Joetsu City History Museum
Address:
7-7 Motoshiro-cho, Joetsu-shi, Niigata
Traffic access(bus):
By the Hokuriku Shinkansen, get off at Joetsu-Myoko Station and take the bus bound for Chuo Hospital. 5 minute walk from Nishishiro-cho bus station.
By Echigo Tokimeki Railway, get off at Takada Station and take the bus bound for Chuo Hospital. 5 minute walk from Nishishiro-cho bus station.
You can also take buses bound for Utsunomata or Maki Elementary School and get off at Takada Park Entrance.
From Naoetsu Station on the Echigo Tokimeki Railway, take the bus bound for Minami Honcho. 10 minute walk from the Nishishiro-cho intersection bus stop.
Alternatively, take the bus for Chuo Hospital and get off at Takada Castle Site Park Entrance for a 5 minutes walk to the museum.
Traffic access(car):
By Hokuriku Expressway, from the Joetsu exit, turn right at the Route 18 Kamojima intersection.15 minutes by car to Takada Castle Site Park.
Tel:
025-524-3120

Fax:
025-522-7205

Business hours:
9:00~17:00
Hours during the winter months (Dec〜Mar) are 10:00〜4:00 pm.
Entrance tickets available until 30 minutes before closing.
Average time to see:
60min

Holidays:
every Monday
Mondays. When Monday is a holiday, the following day will be closed. National holidays, End of Year/New Year holidays.
*Open every day in July and August.
Fee:
【Individual】:General: ¥500; Students ¥250.
*Students attending school in Joetsu City are free.
*Special exhibits may require additional entrance fees.
*First floor lounge and roof deck are fee addmission.
Visitors with a certificate of disability can enter the museum at a 50% reduced rate. Those with physical disability (grade 1-3) or welfare certificate (A) can apply the reduced rate for themselves and one assistant.

【Groups of 20 or more】: General: ¥400; Students ¥200.

【Including Castle 3-Tiered Turret Entrance】: General ¥600; Students ¥300.
Car parking:
Parking for 39 cars, Tour bus parking available
Link outside:
Joetsu City History Museum

Facility:
Wi-Fi access