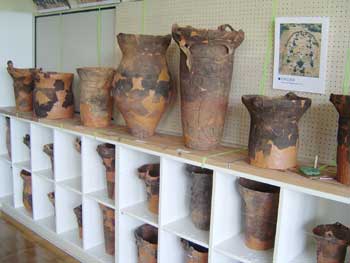 In Nakago Ward, Joetsu City, numerous Jomon period ruins including the prefecturally-designated historical site "Kakefen Ruins" are displayed. It is a museum where you can learn about the life of people who lived in the Jomon period all while enjoying beautiful Mt.Myoko that changes with each season.
detail information
Name of places:
Katakai Jomon Archives
Address:
92-2 Katakai, Nakago-ku, , Joetsu-shi, Niigata
Traffic access(train):
Take the Tokimeki Haneuma railway to Sekiyama Station. From there it's 40 minutes on foot. Alternately take the same train line to Nihongi Station and from there it's 50 minutes on foot.
Traffic access(car):
Take the Nakago IC exit on the Joshin-etsu Expressway and it's a 10-minute drive from there.
Tel:
0255-74-4404

Business hours:
9:00~17:00
Average time to see:
0min
The time it takes to view the archives depends on the person. Feel free to take your time while browsing the archives.
Holidays:
every Tuesday
Closed between December 1 and March 31.
Fee:
Free admission.
Car parking:
Free parking.