Yukidaruma Local Products Center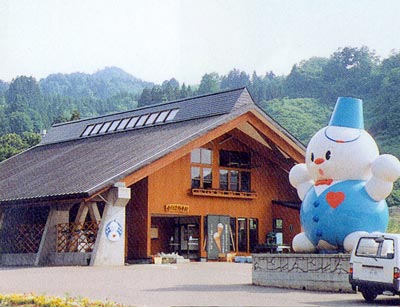 This site features local vegetables, locally grown and processed foods, rice, and local sake available for sale.
Homemade items are made with heart by local farmer, in small batches according to each season.
Please come take a peek at our offerings from time to time. The homemade "oyaki" and gelato are delicious!
detail information
Name of places:
Yukidaruma Local Products Center
Address:
140 Taruda, Yasuzuka-ku, Joetsu-shi, Niigata
Traffic access(train):
By Hokuetsu Express: 10 minutes by taxi from Mishikawa Osugi Station on the Hokuhoku Line
Traffic access(car):
By Hokuriku Expressway: 40 minutes from the Joetsu IC exit, or 40 minutes from the Kakizaki IC exit
By Kanetsu Expressway: 80 minutes from the Muikamachi IC exit
Tel:
025-595-1010

Business hours:
9:00~18:00
Holidays:
Closed on Mondays.
When Monday is a holiday, closed on the following day
Car parking:
Free parking for 15 cars
Link outside:
Yukidaruma Local Products Center