Overnight Experience and Cultural Exchange Facility: Tsukikage no Sato
Would you like to spend the night at school?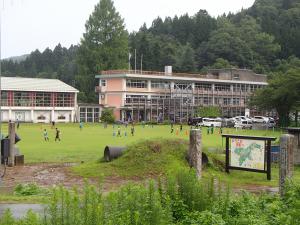 The original name of this renovated school has been left, so visitors can enjoy both the nostalgia and the newness of "spending the night at school," while taking part in the programs offered at the facility.
Programs are arranged in accordance with each season, so that visitors can enjoy rice planting in the spring and harvest in the fall. Also, you can try your hand at making "pressed sushi" (oshizushi), "bamboo wrapped dumplings" (sasadango) or buckwheat noodles (soba).
In addition, you can make realistic models of insects out of bamboo, just as if you were making a plastic model.
detail information
Name of places:
Overnight Experience and Cultural Exchange Facility: Tsukikage no Sato
Address:
410 Yokozumi, Uragawara-ku, Joetsu-shi, Niigata
Traffic access(train):
By Hokuhoku Line: 10 minutes by taxi from Uragawara Station
Traffic access(car):
By Hokuriku Expressway: 40 minutes by car from either the Joetsu IC exit or the Kakizaki IC exit
By Kanetsu Expressway: 75 minutes from the Muikamachi IC exit
Tel:
025-599-3302

Fax:
025-599-3302

Business hours:
8:30~17:00
Check-in: 15:00, Check out: 10:00
Holidays:
Closed for New Year's Holiday
Fee:
Rates include overnight and 2 meals. Adults: ¥6690 ; Children: ¥5610
Groups: Adults ¥5390, Children ¥4570
Room use: ¥220/hr for use of gymnasium, classrooms or science room
Car parking:
Free parking for 30 passenger cars or 5 buses
Link outside:
Overnight Experience and Cultural Exchange Facility: Tsukikage no Sato